Welcome to Rubinhaven | Høje Taastrup
Your urban home surrounded by city life and nature
Welcome to the urban and architectural property Rubinhaven, located in the new district of Høje Taastrup C. Designed by the award-winning architectural firm Mangor & Nagel, the property offers 124 brand-new homes with 2-4 bedrooms of 59-100 m2. Thus, there is housing for everyone, whether a family with children, a couple, a single person or a senior citizen.
Let the kids loose in the courtyard play areas and settle into one of the quiet seating areas, surrounded by greenery, a large pergola, and red-violet flowers. Celebrate your family birthday in the modern, multi-functional residents' rooms, or take a stroll in the recreational city park. The possibilities here are many.
With a Rubinhaven apartment, you will live right next to the brand new city park, which offers beautiful green spaces, play areas, seating areas and, not least, the world's longest skating rink.
Find your way
 You will find Rubinhaven at Parkstrøget 33, 2630 Taastrup. As the address is not yet available in most route guidance services, you can instead navigate to City2, which is located directly opposite Rubinhaven. Here you will also find free parking.
Your search gave 2 available apartments
This apartment has not been released yet
It will be ready for move-in on and the apartment is expected to be released a few months before this.

Please contact us for more information.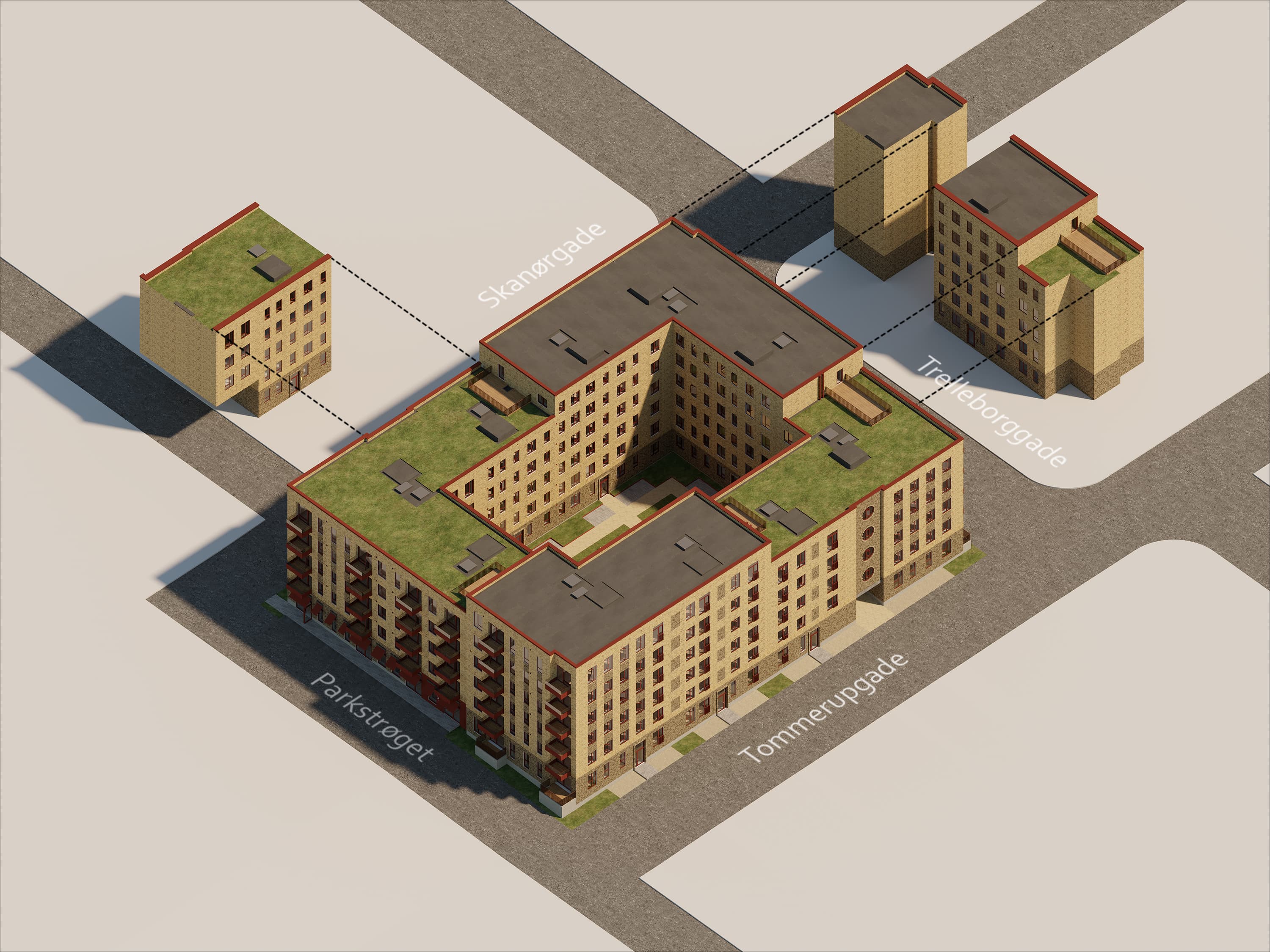 Architect-designed rental homes for the easy everyday life
In Rubinhaven, you move into a modern, bright apartment with beautiful architectural details like round windows and a secluded, private balcony in ruby tones.
Your new home offers a well-thought-out floor plan, giving you the best opportunity to create your dream home. One of the home's great assets is the large kitchen-living room with great lighting and space for both cooking and family gatherings in the living room.
At the centre of the kitchen-family room is a stylish kitchen from Invita, featuring handleless, stylish design, elegant soft-close doors and, not least, induction hobs. You also get a spacious bathroom with a practical sink from Gram, good storage space, and a large shower.
Common room with its own barista
As a resident, you get more space than just your apartment - 214 sqm more, to be precise. On the ground floor, a large and flexible common room with its own barista and space to meet over a cup of coffee or a freshly squeezed juice will be established. Informal work areas with power sockets directly in the high tables and free wi-fi will be set up in the area facing the park street.
Children also have plenty of opportunities to romp around in the screened play and romp area while adults relax on the lounge area's soft sofas.
If you need to host a meeting, workshop or festive event, you can hire a private room with tables and chairs, a flat-screen TV, and a small kitchen.
Want to be Rubinhaven's new barista? Read more here.
A family-friendly municipality under development
The new district of Høje Taastrup C is a natural part of the municipality of Høje-Taastrup, where good family life is a priority. You will already find a wealth of business, education, leisure and cultural opportunities in the municipality, and much more is on the drawing board.   
We take care of you and your environment
With Balder as your landlord, you can relax and enjoy the green spaces without lifting a finger. We make sure that the plants, the facilities, and the building itself are always looked after and maintained. When winter comes, we clear paths and other walkways so everyone can get around safely.
One of the great advantages of being a tenant with Balder is that we are present in the building itself. On the ground floor of Rubinhaven, you will find our administration office, where we can always help you with anything.
Created with care
Rubinhaven is expected to receive a gold certificate under the internationally recognised DGNB sustainability scheme. This means that the property is built to high sustainability standards in environmental, social and economic terms.
This is reflected in durable materials that require minimal maintenance, energy-efficient and water-saving appliances, a good indoor climate, which is achieved through efficient ventilation, and good communal facilities. Read more about our sustainability work here.
Available residences
Fully leased
Under construction