Homes for rent in Helsingør
Ofeliahaven – a cozy green oasis in Helsingør
Ofeliahaven is an attractive architect-designed property, located in cozy surroundings by the forest and with the beach only 2 kilometers away. You get to move into a brand-new apartment with a balcony or terrace attached to each apartment, built with durable high-quality materials.
Ofeliahaven will accommodate a total of 109 homes, varying in size from 2-5 bedrooms spread onto 52-122 m2, which makes great space for singles, couples and families in all ages. The property consists of 8 buildings that are divided into two housing groups, each shaped like a horseshoe encircling the common green courtyard. The courtyards will accommodate quiet living areas with tables and benches and a play area with a playhouse and balance poles. One of the rooms in the courtyard will include an orangery with a kitchen and a large living room which is ideal for birthday parties and other cozy events.
Welcome to Ofeliahaven!
Your search gave 10 available apartments
This apartment has not been released yet
It will be ready for move-in on and the apartment is expected to be released a few months before this.

Please contact us for more information.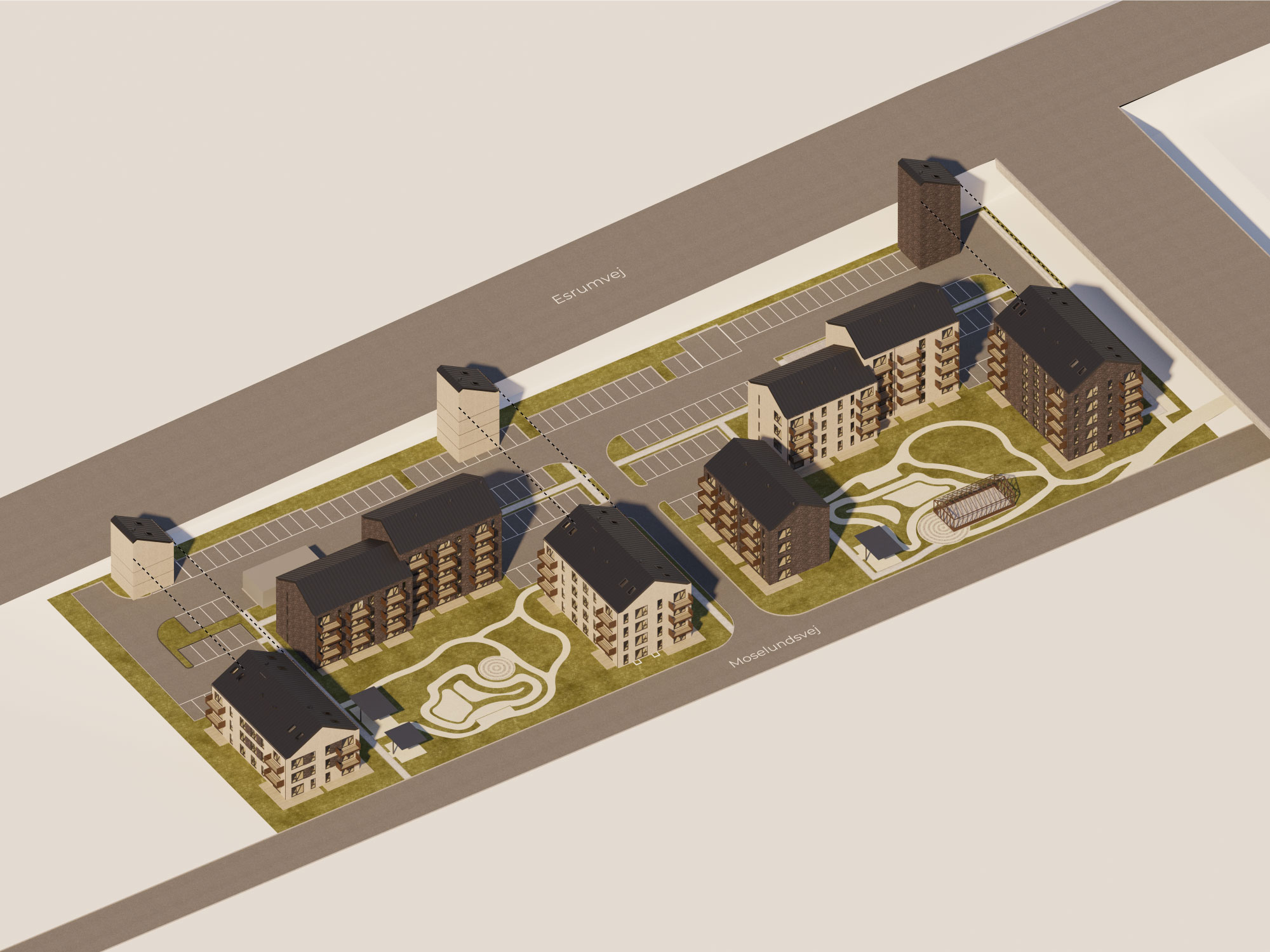 A modern residence with room for living

The apartments at Ofeliahaven are designed for the life that modern people live today. One of its best features is the spacious family room, which is a great setting for relaxing or cosy mornings with the family, while being roomy enough to have all your favourite guests over for dinner. The flexible layout offers ample possibilities to fit out the apartment according to your style and needs.
Large window-walls invite nature inside and ensure a home with plenty of daylight. The apartments were also designed with cross-lighting, which means that the light shines from one side to the other.
The apartment is furnished with a stylish kitchen with handle-free, soft-close doors, where quiet-running appliances ensure a serene atmosphere. The bathroom comes with a stacked washer-dryer, floor heating and an extra-large shower cabinet, so you can get the best possible start to your day.
All residences have their own outdoor area, consisting of a balcony or front garden/terrace, which you can furnish for cosy get-togethers with the people you care about.
 
A vibrant district near the forest, the beach and in the centrum of Helsingør.  
Ofeliahaven will be built in a new and vibrant district and offers housings opportunities for all generations. The area consists of a grocery store, upcoming workplaces and Nordvestskolen only 500 meters from Ofeliahaven. In the long term, the area will offer cafes, fitness facilities and medical practices.

With a rental home in Ofeliahaven, you will live in a green oasis right by the forest, ideal for jogging, quiet walks, family picnics and other good times for both the small and large family.

At the same time, you have the center of Helsingør nearby, which offers a mixture of cozy alleys with half-timbered houses and a lively city life with shops, cafes and restaurants. Helsingør also has several cultural experience opportunities such as Kronborg Castle, Kulturvæftet and the M/S Museet for Søfart.
Available residences
Fully leased
Under construction