Rental apartments in Høje Taastrup
Agerhusene - Harmonious homes developed for modern life
Agerhusene have been designed by the award-winning architects at Danielsen Architecture that have created several floor plans - ranging in size from 2-4 rooms - to support the best possible living conditions for both the family, singles and everyone in between. See available rentals here
Welcome home to an apartment with functional and modern everyday luxury!
Din søgning gav 5 ledige lejemål
This apartment has not been released yet
It will be ready for move-in on and the apartment is expected to be released a few months before this.

Please contact us for more information.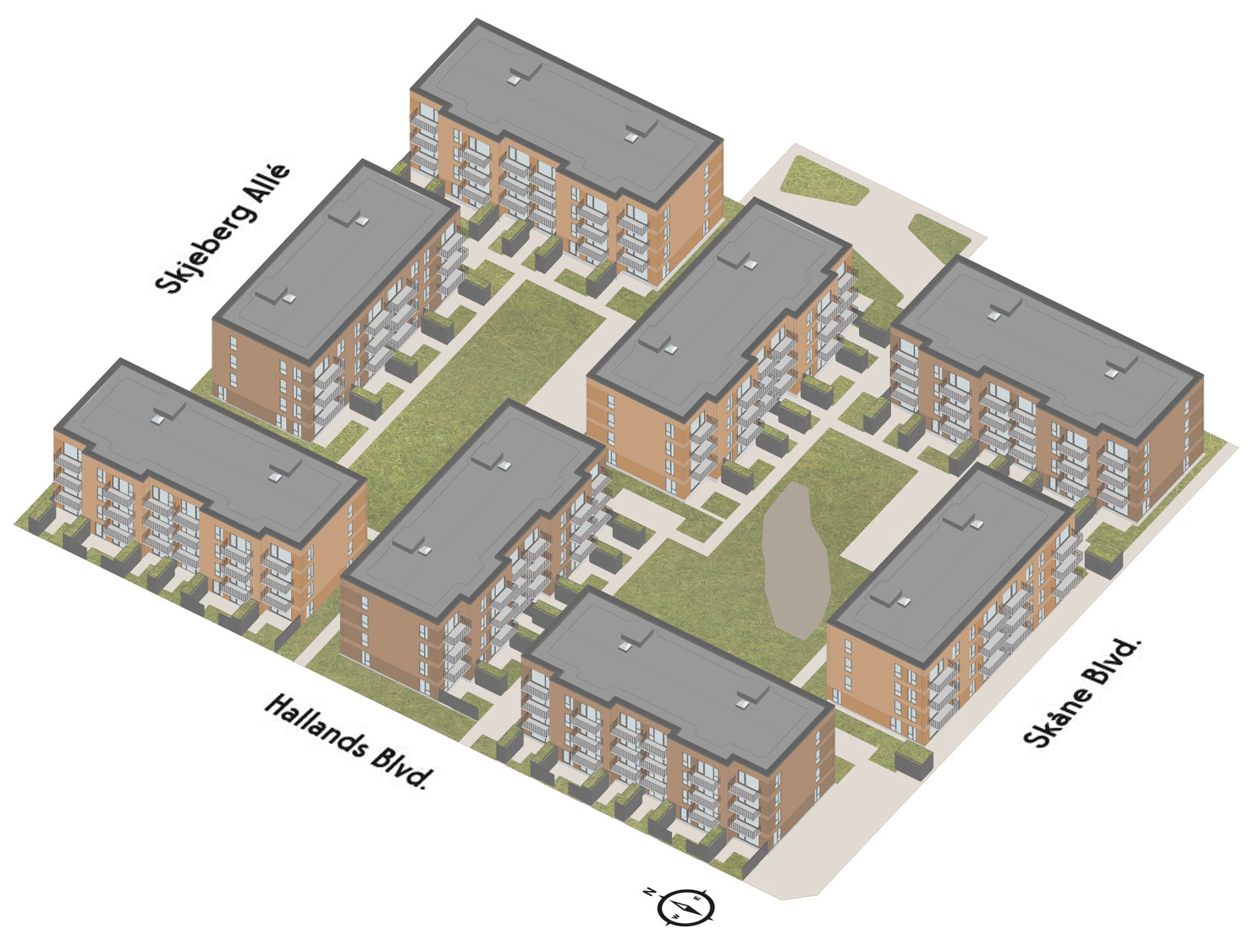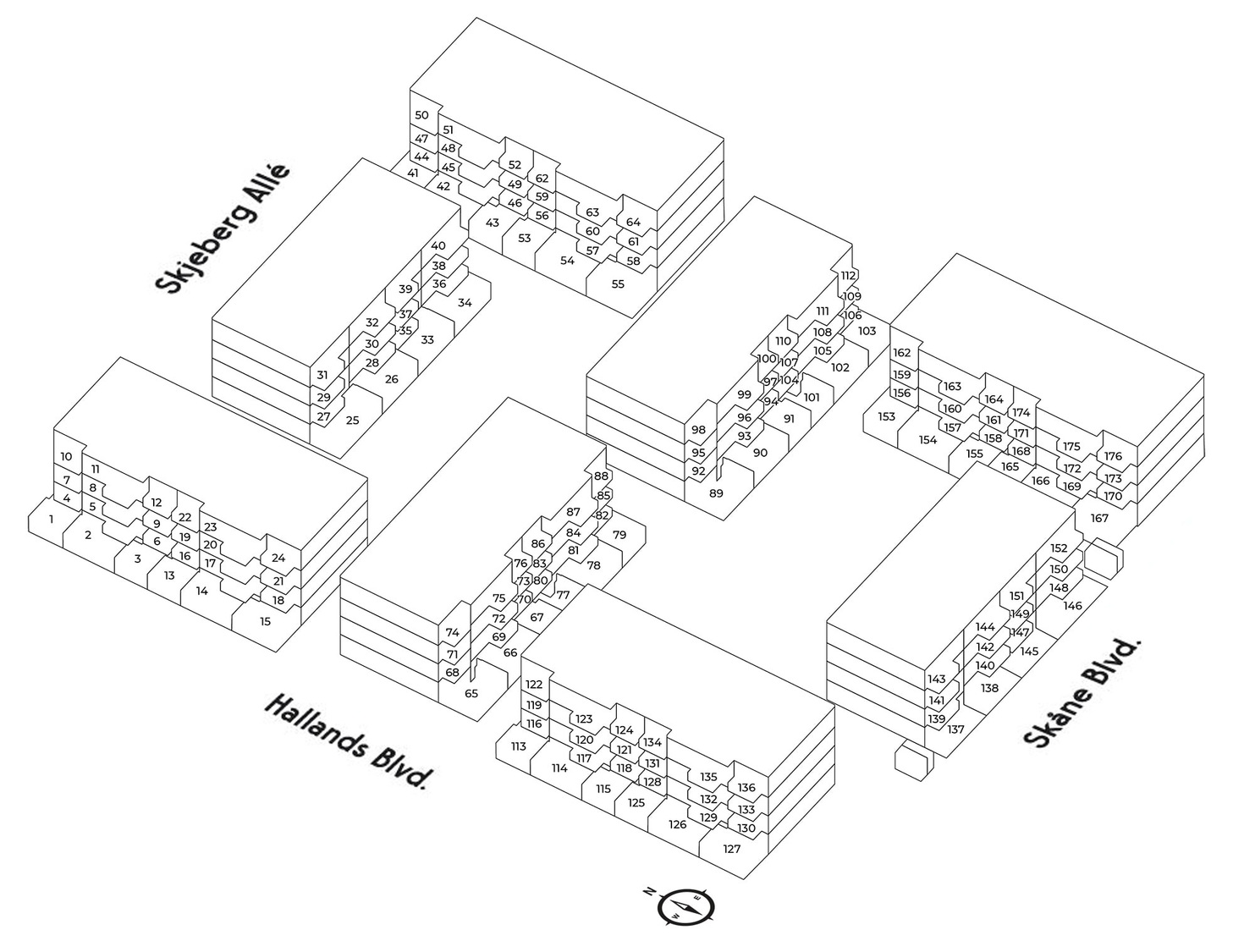 Focus on quality
The property consists of eight cluster houses built around two large green courtyards where multiple passages provide several small areas for relaxation, physical activity, and social interaction between neighbors across all age groups. In these common areas, neighbors can meet up for barbecues and playdates. Make snowmen and snow angels. Play football on the field and enjoy some quiet time on the picnic blanket. Car parking and sheltered bicycle parking are available in close proximity.
The apartments in Agerhusene are bright and functional apartments - built to sustain modern everyday life. All apartments are equipped with timeless white JKE Design kitchens with the latest Bosch appliances in energy class A++. The large bathrooms have room for the entire family on busy mornings. You will find heating in the floor for the cooler days and of course an energy-efficient A+++ washer and B dryer from Bosch.
All apartments have large balconies or cozy terraces where the sun can be enjoyed as they all are arranged to face South and West. In addition, a practical storage room is available, which can be found either in the basement, in the apartment itself or in an outdoor shed. The homes are accessed through beautiful, bright corridors, where each house has selected surfaces painted in different colors. In this way, you are welcomed home to your own special house every day.
You will find car parking and sheltered bicycle parking close to the building. Car parking is located around the buildings, ensuring a quiet and car-free area in the common areas.
Close to everything and surrounded by nature
Agerhusene is located in a newly developed neighborhood in Høje Taastrup where everything has been consciously designed from the beginning. The neighborhood is characterized by its green areas, football fields, and safe systems of paths where residents can thrive and engage safely. Agerhusene is within short walking distance of daycare institutions, a public school, a youth club, and the local high school. Høje Taastrup is a dynamic city in development and offers a large variety of opportunities for an active lifestyle – e.g. swimming facilities, football fields, and a golf course. If you like speed, you can visit the world's largest go-cart track which just opened in Taastrup. The city also houses a large venue for theater and music, an outdoor opera scene and to museums. Only 5 minutes' walk from Agerhusene is the large shopping mall City 2, full of stores and cafés.
Høje Taastrup station is within 10 minutes' walk, from where in just 12 minutes you can be in Copenhagen center or in 7 minutes you can be in Roskilde. In addition, there is a short driving distance to both Ring 5 and the Holbæk motorway.
Here you live in a carefully designed, modern neighborhood providing the perfect framework for everyday life.
Available residences
Fully leased
Under construction
Local area
Transport

Høje Taastrup St. - 700m
Bus stop - 150m

Shopping

Føtex - 500m
REMA1000 - 550m

Leisure time

Cinema - 600m
City 2 (Mall) - 600m

Institutions

Daycare - 900m
Public school - 1km

Nature

Hakkemosen - 2.6km
Selsmosen - 2.8km

Sports

Fitness - 400m
Football field - 1km

Cph centre

Copenhagen Central Station
13 minutes via train


Dining

SachiSushi - 600m
Café Crema - 600m
Parma & Pasta City - 600m