Rental apartments in Hillerød
Carlsbakken - quality apartments in a visionary, urban area north of Copenhagen
At Carlsbakken, you will find apartments of all sizes and for every need. They have been designed by the award-winning architects, Holscher Nordberg. Instead of the usual solution, where apartments are mass-produced, we have made an effort to create 25 unique floor plans, distributed between 127 apartments.
Your search gave 6 available apartments
This apartment has not been released yet
It will be ready for move-in on and the apartment is expected to be released a few months before this.

Please contact us for more information.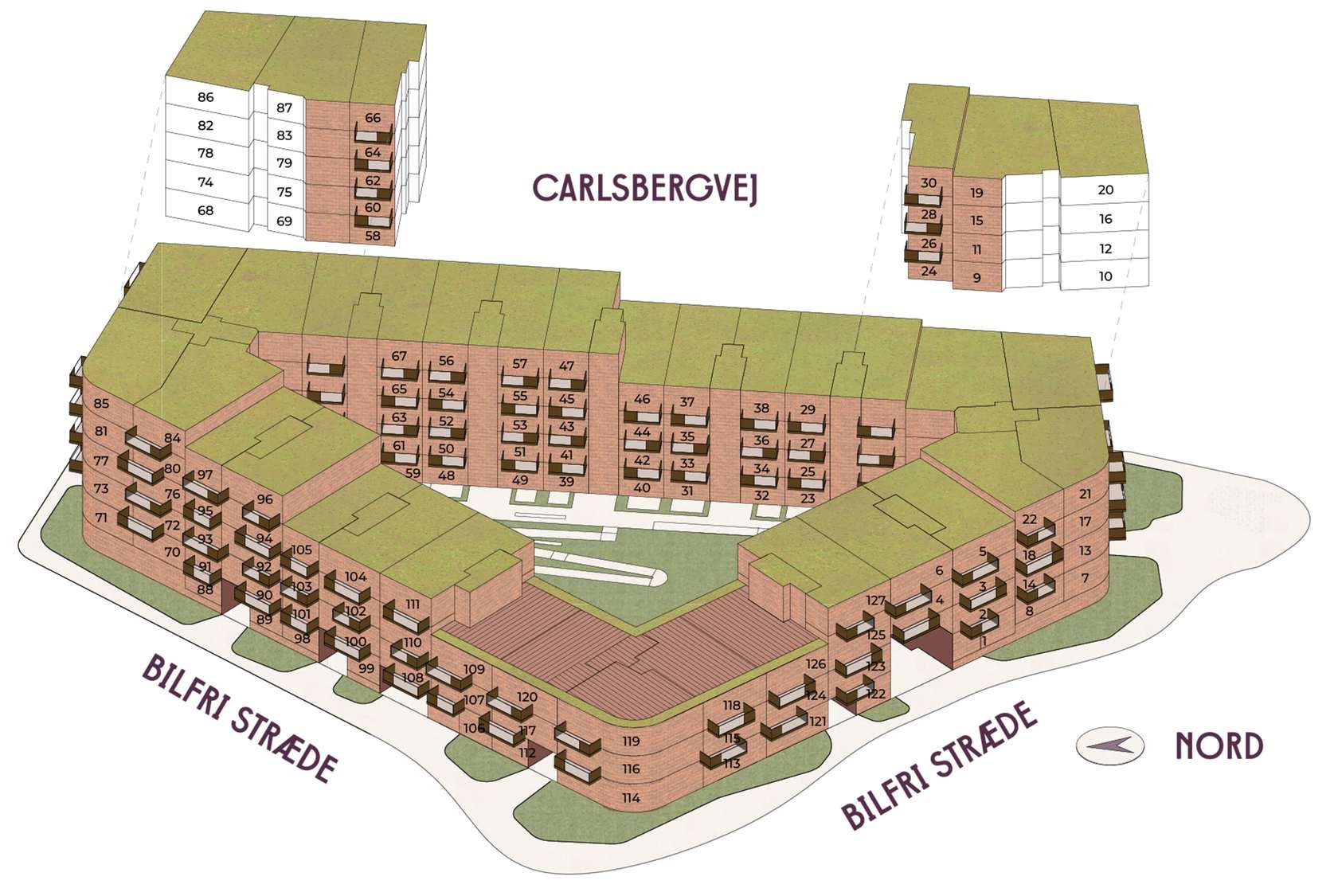 Experience everyday luxury in the sample apartment
The quality is highly prioritized, with matte lacquered floor in ash, kitchens with energy-friendly (A+) dishwasher and integrated refrigerator/freezer from Bosch Siemens. The bathrooms have underfloor heating and, of course, an integrated, energy-friendly Bosch Siemens washer and drier. Most apartments have corten steel balconies or a terrace on the ground floor.
You will find both open-concept apartments with round corners, as well as the more classic floor plans with extra space for children, guests, office, and/or hobbies. Most apartments have balconies made of corten steel, whose beautiful glow changes with the light of the sky. All balconies are ensured optimum light, thanks to the inclined architecture, which also means that there is lots of sun, both on the balconies and in the courtyard, where you can enjoy a quiet moment.
Hillerød - a vibrant city in vast development
Hillerød is a forward-thinking municipality that works actively to ensure an attractive environment for an active and vibrant everyday life. The city offers a rich business life with modern specialty shops, cosy cafés and iconic cultural institutions, such as Frederiksborg Castle, the associated Baroque Garden and the National History Museum. Further, you will live close to the great park, "Store Dyrehave", where you can explore and enjoy the rich natural life. Hillerød is also an active city with, among other things, indoor swimming pool, badminton hall, skating rink and tennis centre, as well as fields for beach volleyball, street basketball, soccer and petanque. And with the city's new multi hall, more big sports, music and theatre events will surely follow in the future.
Available residences
Fully leased
Under construction
Local area
Transport

Bus stop - 300m
Hillerød st. - 700m
Hillerød center - 1.5km


Shopping

Rema1000 - 550m
Netto - 700m
SlotsArkaderne - 1.7km

Outdoor

Lake (Teglgård) - 800m
Castle Park - 800m
Great Dyrehave - 1.9km

Entertainment

Hillerød Bio - 1.1km
Royal Stage - 1.6km
Frederiksborg Castle - 1.7km

Education

UCC Hillerød - 100m
Primary school - 150m
High school - 550m

Childcare

Daycare (Georg) - 700m
Daycare (Margrethe) - 900m
Kindergarten - 850m

Sport

Dance class - 1.4km
Swimming pool - 1.6km
Sports club - 1.7km

Fitness

Smiley Fitness - 400m
Fitness World - 500m
CrossFit Hillerød - 1.7km