Welcome home to TriumphHusene
Architect-designed condominiums with light, air, and quality of life in every square metre
Welcome to TriumphHusene, 39 new townhouses in attractive Espergærde.
The townhouses are both functional and aesthetic, with practical floor plans and thought out details. Daylight streams throughout the house, allowing both the small and large families to unfold and decorate.
TriumphHusene are well-designed, high-quality homes that can create the everyday life you dream of for you and your family. Everyday necessities like groceries and daycare are within easy reach, and good transport links make logistics easy.
Located in Espergærde on the old Triumph site, the houses are part of the transformation into a new, attractive neighbourhood with respect for history. Lush green spaces wind between the townhouses and the neighbouring TriumphByen, and the framework is set for good neighbourliness.
The townhouses are on two levels, 4- and 5-bedroom, respectively, and cover 108 to 122 square metres. Each house has its own terrace, shed, and parking right outside the front door.  
TriumphByen
Right next to TriumphHusene you'll find TriumphByen, 202 newly built rental apartments in the same style as TriumphHusene. If you are interested in TriumphHusene, TriumphByen could very well also be something for you.
Din søgning gav 1 ledige lejemål
This apartment has not been released yet
It will be ready for move-in on and the apartment is expected to be released a few months before this.

Please contact us for more information.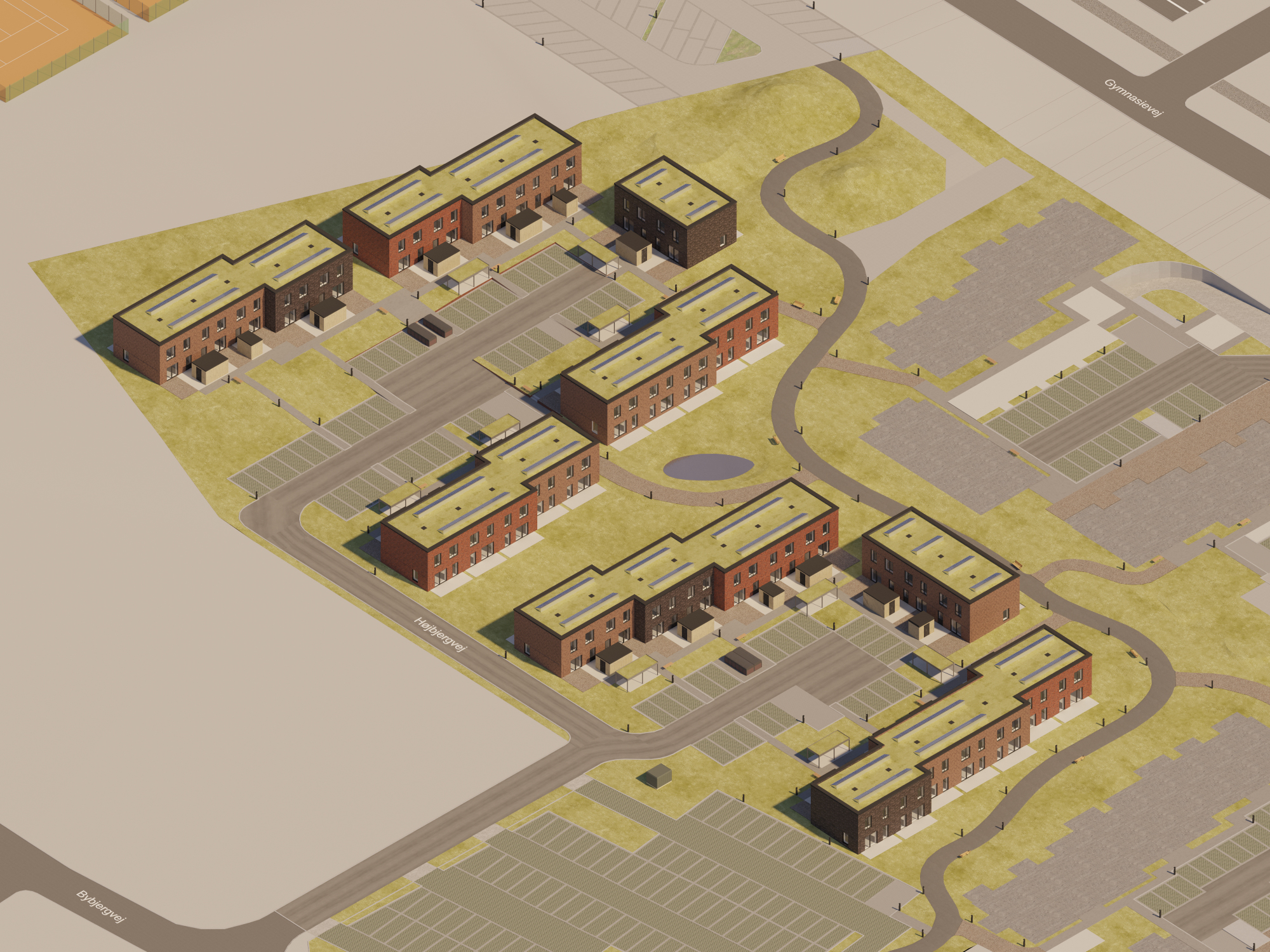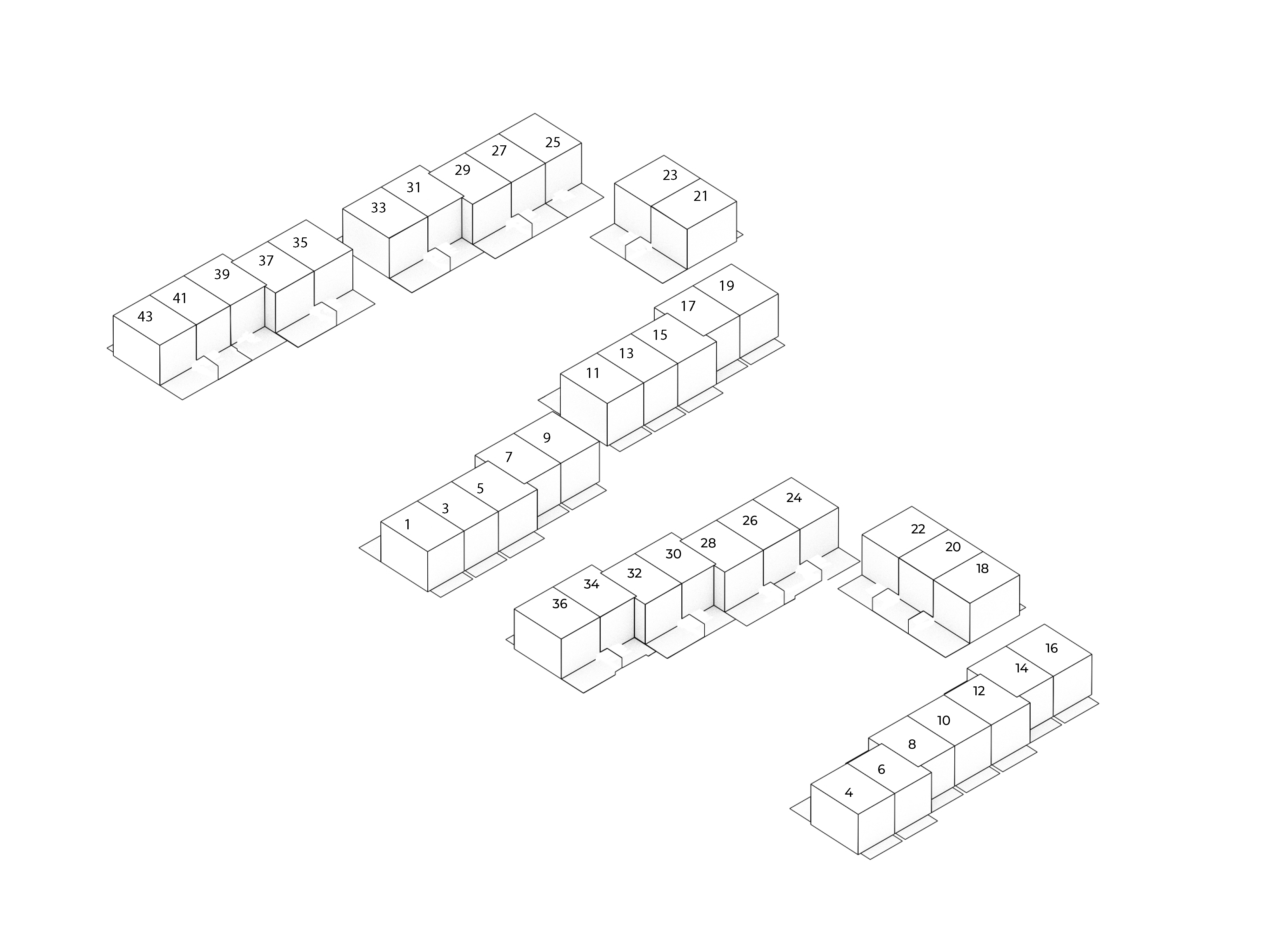 Welcome home 
When you return home, you can leave your bike or pram in your own shed by the entrance. Built-in closets in the entrance make it easy to keep a tidy home, and daylight from the stairwell's skylight draws the light from the sky down to the ground floor. Of course, there is underfloor heating throughout the house, providing you optimal comfort from the moment you step inside.
The great family room is the heart of the house. Here the whole family can enjoy different activities while staying close. In summer, you can open the door to your own terrace, and in winter, you're still connected to the surrounding nature through the large floor-to-ceiling windows. The terrace is bordered by wild hedges, which both decorate and provide privacy.
---
A good setting for everyday life
The kitchen is stylish and functional, with integrated appliances and plenty of counter and cupboard space. Here you can finish dinner while you help the kids with the day's homework or offer guests a glass of wine while you cook up a feast.
The upstairs bathroom has been thoughtfully designed to provide the perfect setting for both the start and end of the day. Timeless minimalism and quiet appliances create a calm space that you can make your own. The 4-bedroom townhouses are even equipped with bathtubs, which both children and adults will appreciate. Also, all houses have a small toilet with a shower downstairs, so all morning routines can run smoothly.
---
Space for what matters
On the first floor you will find 3-4 practical rooms, which can be arranged according to your family's needs. Room for more children, shared children, hobby room, home office, or walk-in closet? It's entirely up to you - and the functional layout is designed to allow rooms to change function as your family's needs change.
---
The neighbourhood - a city within a city
The townhouses are located on the old Triumph site in Espergærde, where the new, attractive TriumphByen neighbourhood is growing these years. Here you will soon find both shops and homes nearby, and at the same time, you are close to both the cosy Espergærde Center, the city centre's charming shops and the maritime atmosphere on the harbour.
The names TriumphByen and TriumphHusene were chosen as a tribute to the great local historical importance of the area. History is also written into the architecture itself, where parts of the old foundation have been preserved and reused as the foundation for the new underground car park.
As a neighbour, you will have an attractive apartment development. The approximately 200 rental properties will be built by Balder, which will also be responsible for the management. Here, great emphasis is placed on creating a beautiful and safe settlement, with a focus on community and neighbourliness for all ages.
The large communal garden winds its way between the terraced townhouses and single-storey buildings, forming a natural focal point for the new neighbourhood. It's both car-free and level, so young and old can safely romp and explore. Even insects are taken into account - small, cosy biotopes are established to benefit wildlife and biodiversity.
Green play and seating areas and a communal barbecue area provide ample opportunity to get to know all your neighbours, and as townhouse recidents, you'll also have access to use the large community house where life events big and small can be celebrated.
---
Espergærde - a North Zealand gem of atmosphere
Only 10 minutes from Helsingør and about 35 minutes from Copenhagen, you will find Espergærde is where you get the best of both worlds. Here you will find fresh air, high ceilings, and scenic surroundings - explore the nearby Kelleris Hegn reserve forest, for example, or enjoy Espergærde's long sandy beach with shelter from the wind. If you like foam and saltwater, there's a winter bathing guild and sailing club.
You really get the feel of a cosy local environment when you meet the neighbours for ice cream on the harbour and at the same time you enjoy a vibrant city life where you can explore the many cosy shops. If you get hungry, there are plenty of opportunities to enjoy some Italian gastronomy - the local Italian family will be happy to invite you into one of their restaurants.
The city's active leisure and associational life offer plenty of opportunities to meet people and work up a sweat, whether you're into football, petanque, or badminton.
At the same time, you're just a short walk from great cultural experiences in Helsingør and Humlebæk, Krogerup's charming farm shop and the idyllic seaside hotel life in Hornbæk.
TriumphHusene are located a short distance from Espergærde's two train stations, with a 10-minute walk to Mørdrup Station and a 15-minute walk to Espergærde Station. If you're in a car, you can get on the motorway in two minutes.
---
Created with care: a sustainable building
The entire building is pre-certified to gold according to the high sustainability standard DGNB. We have chosen this sustainability certificate as a benchmark because it takes a holistic approach to sustainability, addressing environmental, social, and economic issues.
The roofs of the townhouses are planted with sedum grass, which is beneficial for biodiversity and helps to absorb rainwater and prevent flooding.
Careful and responsible material choices have been made in everything from the paint, which benefits the indoor climate, to the appliances, which are in the highest energy class and have a long life.
Building townhouses is also a responsible choice in itself because it maximises the use of building materials while lowering the energy costs associated with heating the housing.
---
Available residences
Fully leased
Under construction