Your search gave 33 available apartments
This apartment has not been released yet
It will be ready for move-in on and the apartment is expected to be released a few months before this.

Please contact us for more information.

Welcome inside
Your Green Hills flat is made for modern living. The bright heart of the home is the multifunctional kitchen-dining area where there is room for homework, company, sofa time, weekday dinners and gourmet cooking. Here you can truly create a home you look forward to coming home to.
Green hills with big ambitions
Green Hills is named for its distinctive architecture that grows out of the landscape. The architects from Danielsen Architecture have created the property with equal parts dedication to aesthetics and functionality – designed from the inside out with people and the environment in mind, so that beauty and function are united and no detail is left to chance.
The two hills are covered with a specially selected evergreen sedum grass, which both draws nature upwards and completes the architectural expression while contributing to both climate-safe rainwater management and local biodiversity.
The facades have a modern and open look featuring red-brown hues inspired by terracotta-coloured mountains and stucco houses often seen in southern Europe. The balcony system is also beautiful and functional with glass screens that both serve as noise barriers and enhance the inviting aesthetic. Wooden clad planter boxes and screening wooden slats give the facade a green hue letting light shine through while creating a sense of privacy in the flats' integrated outdoor spaces.
---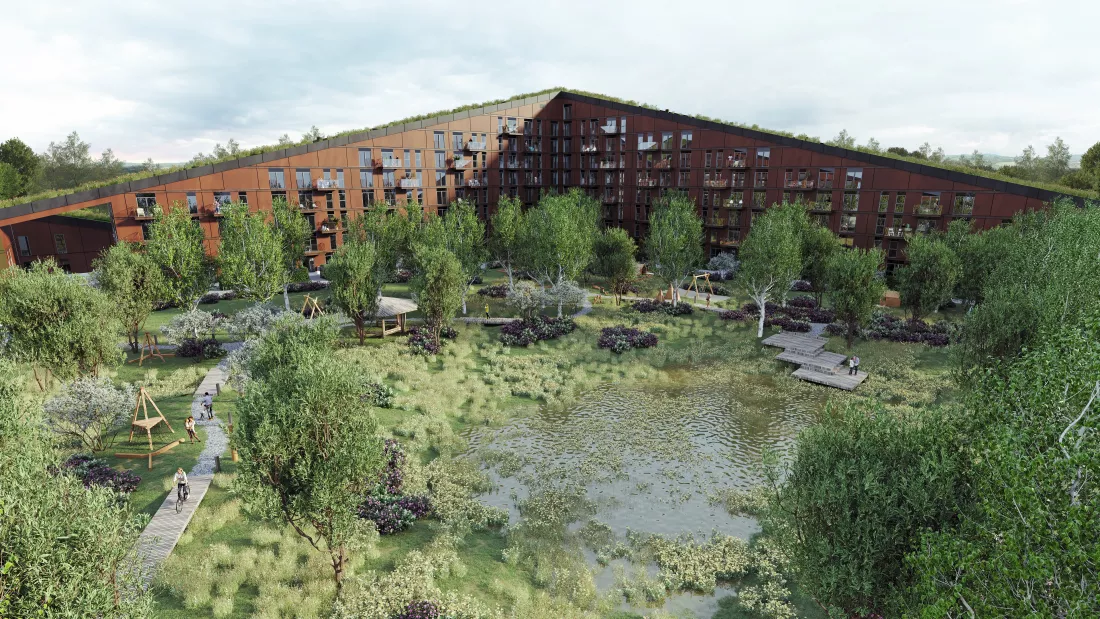 Natural harmony between aesthetics and experience
Between the two high hills, you'll find Green Hills' more-than-usual ambitious green spaces. On the approximately 4 hectares, a lush hilly landscape is created with room for everyone leaving plenty of opportunity for reflection, adventure and socialising.
Take a stroll down the winding paths that wind through the area, expanding into small seating areas in the sun and the shade. Get carried away by the kids' fun and games in the play areas, have a chat with a neighbour on a cosy bench, or take a seat in a quiet area ideal for contemplation.
Among the hills, you will also find the lake, which contributes to the aesthetic and the property design's environmental and climate considerations. During heavy rains, the lake expands and transforms the hills into an island landscape where bridges and a cable car invite you to live life to the fullest. At the same time, the retention of water ensures that local sewers are not overloaded. Last, but not least, the lake helps to protect and enhance the biodiversity of the area all year round.
Sensual and functional
The plants have been carefully selected with inspiration from the surrounding nature to the north, and a variety of full-crowned oak and beech trees and smaller trees, such as rowan and birch trees, create a living landscape to explore, both by foot and with the eyes. Flowering shrubs, such as lilac and forsythia, further delight the senses whilst also acting as natural windbreaks.
The grasslands vary in expression to create a perfect balance between functionality, biodiversity and nature experiences. You will find both short-cropped areas that are ideal for playing and ball games and small meadows with variations of herbs and grasses in bloom enticing people of all ages to explore nature.
Connected to the environment
Convenient path systems safely and easily connect Green Hills with the surrounding area, which comes in handy whether you are exploring the area on foot, by bike or pushing a pram. Common areas are lit in the evenings, and lifts and ground-level access points ensure that everyone can get around and enjoy the many facilities on offer.
---
Everyday living with connection and balance
Green Hills is more than your home. Instead of dedicating square metres to the yoga mat, telework and the big toolbox in your flat, we have created a range of meaningful communal facilities as an extension of your home. It is good for building relationships, pooling resources and not least everyone's finances when we share facilities in a meaningful way.
---
Safe everyday living in a vibrant city
Solrød's cosy town centre is filled with speciality shops for young and old, and offers activities all year round – from Christmas markets to Friday jazz concerts to flea markets and spring-time concerts. The atmosphere is friendly and welcoming, and it is a place where people smile and greet each other across generations.
The long beach is the centre of many activities, such as kayaking and sauna, and it is often along the coast line that you meet friends and neighbours, whether these are planned or spontaneous get-togethers.
The city offers a wide range of leisure and association activities; in fact, more than half of the municipality's citizens are members of an association, so people of all ages have plenty of opportunities to find communities that suit their interest and pursue an active lifestyle.
With two primary and lower secondary schools, several private schools, day care centres, an upper secondary school and an upper secondary shorter general education programme, the city is a good base for families throughout all stages of childhood and adolescence. At the same time, the wealth of shopping opportunities ensure that all your everyday needs are met locally.
Whether you walk, cycle, drive or use public transport, the well-functioning infrastructure ensures that you can easily reach your destination in Solrød or farther away. Footpath systems enable young and old to safely walk around the city, and from nearby Jersie Station, the S-train runs to Copenhagen Central Station in just half an hour.
---
Located in the midst of nature's treasure chest
Solrød is surrounded by unique nature on all sides, so the whole area offers a variety of outdoor experiences. Good path systems invite you to go walking, running or cycling, and the municipality's six kilometres of coastline offer plenty of fresh sea air and swimming opportunities.
Explore Trylleskoven by the beach where you'll find shelter, barbecue areas and petting goats, discover the diverse wildlife in Karlstrup and Jersie marshes, or watch birds on Staunings Ø, which has been designated by the EU as a habitat area.
Available residences
Fully leased
Under construction