Your search gave 4 available apartments
This apartment has not been released yet
It will be ready for move-in on and the apartment is expected to be released a few months before this.

Please contact us for more information.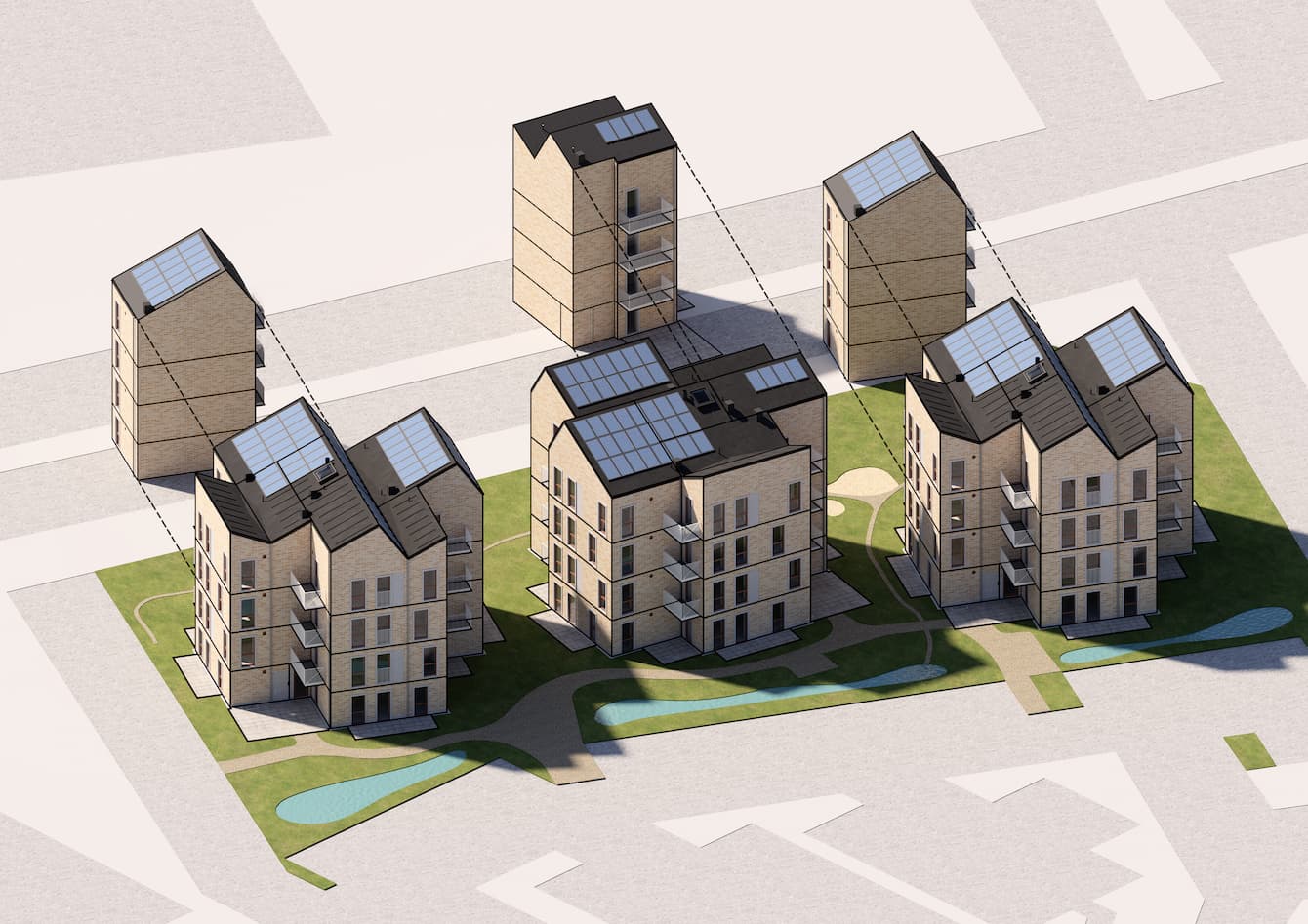 Architect-designed dream homes
Exprect to move into a brand new home built in a clean, Nordic style. Enjoy the light from the large windows, feel the wooden floor under your feet, and step out onto your beautiful balcony and look to the sky. Here, you get luxury in every square meter.
The homes contain a large kitchen-dining area that invites the whole family to gather for dinner, Christmas or family birthdays. The stylish kitchen from Invita makes it a pure pleasure to cook delicious meals.
Start the day calmly in the bright and spacious bathroom with floor heating, washing machine, dryer, and shower. And if you have time, you can enjoy your morning coffee in peace on your private balcony.
Here, you also have a private parking space with charging stations for electric cars.
A new and dynamic neighborhood
The new and dynamic neighborhood of Hundige Strandby is created with a focus on safety and community.
In the area, there are a variety of different types of homes that are suitable for singles, families, and seniors. Between the homes, there are recreational green areas that invite residents to meet and socialize across age groups. Children can play in the playgrounds, and adults can relax in the peaceful areas.
Magnificent natural areas await you
Greve has an eight-kilometer long white sandy beach, stretching from the attractive and modern Hundige Harbor, past the idyllic fishing harbor of Mosede and to the area around Mosede Fort and Karlslunde Beach.
The water at the beach is shallow, and there is limited current, so you can send your children out into the waves with peace of mind.
Along the entire coastal road, you can find various specialty shops, as well as a range of good restaurants to satisfy your hunger.
You and your family can also visit Karlstrup Limestone Quarry, which offers the clearest and most beautiful azure blue water, or you can take a trip to Hedeland Nature Park, where you can explore the magnificent nature and let your children play on the area's playgrounds.
Exciting city and cultural life
You are close to shopping opportunities such as Waves, which offers everything from fashion and toy stores to cozy restaurants and cafes. Waves also has a cinema.
You can also go explore the shopping center Portalen Greve Theater and Music House, which offers something for everyone. Big names such as Anders Matthesen, Stig Rossen, and Johnny Logan frequently visit the place. In addition, you can experience theater performances such as The Nutcracker and various lectures.
Culture enthusiasts have the opportunity to explore ARKEN, which houses one of Scandinavia's finest collections of contemporary art. The book lovers can visit Greve Library, where children have the opportunity to play on the library's large pirate ship.
You also have easy access to an active lifestyle at Greve Sports and Leisure Center, Greve Tennis Club, or Greve Gymnastics and Trampoline.
In the area, you will find a range of schools and institutions that contribute to ensuring that your children can have a safe and good upbringing.
Available residences
Fully leased
Under construction